We're a community of students, faculty, and business leaders committed to using the power of entrepreneurial action to transform lives and shape a better more sustainable world.
Entrepreneurial
Initiating business innovation with integrity and passion.
Action
The experience of social impact that sparks social enterprise.
Us
Student, academic and business leaders collaborating to create a better world.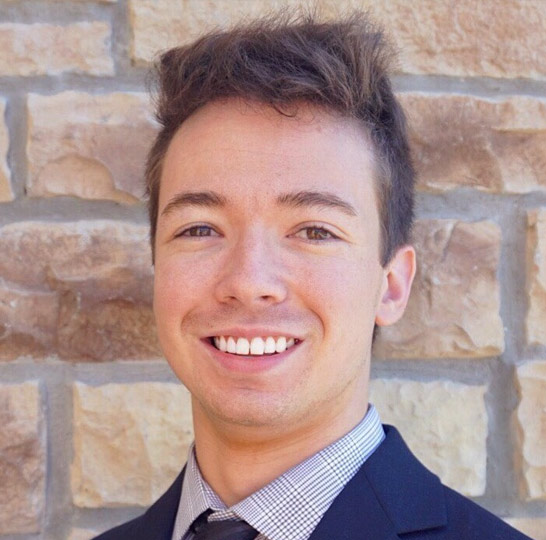 Chris David
Human Resources Officer
Chris is an incredibly experienced undergrad from Fort Smith, AR. His experience includes working for companies such as Startup Junkie Consulting, McMillon Innovation Studio, Spectrum Apartments, and being an orientation mentor for the University of Arkansas. Chris is also co-president of a student led pet box subscription service called 'Boxxyy' and donates his time to Enactus, You-niverse Entrepreneurship Club, Real Estate Club, and Leadership Walton. Chris will graduate from the University of Arkansas this May with a degree in Business Administration, Small Business Management and Entrepreneurship.
Landon Carpenter
Director of Projects
Landon Carpenter is a Senior Management/Entrepreneurship major from Bentonville, Arkansas. When Landon is not busy with climbing at the local climbing gym, surviving Air Force training, or surviving his studies, he is working on projects with Enactus – Helping to equip future project leaders for success. Landon has worked over 270 volunteer hours since Spring 2017, helping with the restructure of the Enactus U of A club in exponential ways. After college, Landon dreams of being an entrepreneur himself.
Jenna Luetjen
Marketing Officer
Jenna Luetjen is a senior Marketing major from Tulsa, Oklahoma. Jenna spends a majority of her time outside and working for local non-profits. She serves as the Marketing Manager for Beautiful Lives Boutique, a local social venture that helps support three local non-profits. She also serves as a Director of Digital and Social Media for Go Near Ministries – A nonprofit aimed to empower orphans, widows, and the poor in Kenya. Jenna will be working with Enactus as our new Marketing Officer. Jenna has a heart for non-profit marketing and would love to pursue a career in the non-profit sector post-graduation.
For UA Students
Become a part of a team – The Enactus U of A Family
Make a meaningful difference in your community
Represent the University of Arkansas at
National Competitions
Gain the experience, skills and contacts necessary to build a successful career
Get access to today's top business leaders
Find opportunities for jobs and internships
Community & Industry
Does your company or non-profit or have a potential project that we can support? Want to volunteer?
We'd like to hear from you.
Send an email to ArEnactus@gmail.com.
Connect with Us on Facebook